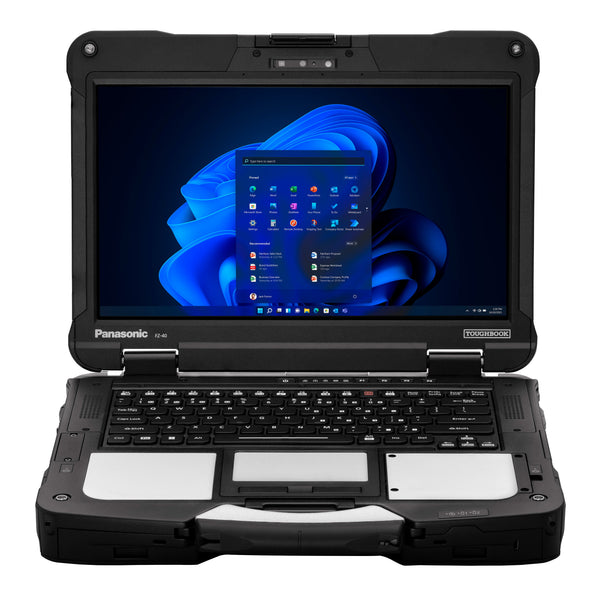 ---
Resources
---
What is included with a base unit?
i5 Processor: Windows 11 Professional (or downgrade to Windows 10 Professional), Intel Core i5-1145G7 (up to 4.4GHz), vPro, 14.0" FHD Gloved Multi-Touch, 16GB RAM, 512GB OPAL SSD, Intel Wi-Fi 6, Bluetooth, Mic and Infrared 5MP Webcam, Standard Battery, TPM 2.0, Emissive Backlit Keyboard
i7 Processor: Windows 11 Professional (or downgrade to Windows 10 Professional), Intel Core i7-1185G7 (up to 4.8GHz), vPro, 14.0" FHD Gloved Multi-Touch, 16GB RAM, 512GB OPAL SSD, Intel Wi-Fi 6, Bluetooth, Mic and Infrared 5MP Webcam, Standard Battery, TPM 2.0, Emissive Backlit Keyboard
---
Product Overview
Let's be honest. Traditional TOUGHBOOK customers did not want to see the TOUGHBOOK 31 die and their demand keep Panasonic's long-time flagship laptop on life-support for nearly 3 years after it was due to be sunset. To be clear, it wasn't that Panasonic wanted to simply eliminate their best-selling laptop just for kicks. The TOUGHBOOK 31 had a square display and frankly, no one makes a square display anymore. It's more complicated than that of course, plus the TOUGHBOOK 33 seemed poised to be the evolution of the traditional laptop. But sometimes we humans just want a good old fashion laptop.
Fast-forward to now and the TOUGHBOOK 40. Panasonic heard their customers and said, "You want a fully-rugged traditional laptop? We'll give the best beast this market has ever seen." That's actually not a quote from Panasonic but feels more impactful when we put it in quotes. And they did just that. The TOUGHBOOK 40 is simply superb. Remarkably rugged, surprisingly powerful performance, extreme battery life, and that undeniable TOUGHBOOK look. Call for a custom quote: 877-532-8088
---
Integrated Features - Expansion Areas - xPAKs
Rear Expansion Area: Your choice between...
VGA + Serial (true) + LAN (ethernet) - installed with screws

HDMI + Serial (true) + USB-A - installed with screws

HDMI + USB-A x2 - installed with screws
Left Expansion Area: Your choice between...
DVD Drive- installed with screws

Blu-ray Drive- installed with screws

Insertable SmartCard CAC- installed with screws

Barcode Scanner- installed with screws

2nd SSD (512GB or 1TB) - installed with screws
Right Expansion Area: Your choice between...
2nd Battery - quick-release

Insertable SmartCard CAC - quick-release
Palm Rest Expansion Area: Your choice between...
Fingerprint Scanner (Secured-core PC) - installed with screws

Fingerprint Scanner (Active Directory) - installed with screws

Contactless Smartcard Reader - installed with screws
---
Product Highlights
14" Full HD widescreen display
3200 MHz DD4 Memory
USB-A (10Gbps), USB-C Thunderbolt (40Gbps)
4G LTE and 5G (Sub6 mm)
Optional 2nd Battery and extreme battery life
BIOS Selectable Quad-Pass Through
OPAL or FIPS SSDs
Optional Rubber Backlit Keyboard
MIL-STD-810H, MIL-STD-461G, IP66
A large, more responsive touchpad and mouse buttons
Auto-sensing touchscreen for adjusts for rain, gloves, touch, and pen.
---
Current Laptop Part Numbers - TBD
SHIPPING AND LEAD-TIMES
PLEASE BE ADVISED:  Panasonic TOUGHBOOK laptops and tablets, accessories and related mounting equipment are enterprise solutions that are typically custom-built to order and thus carry a lead time of anywhere from 2-3 weeks to 2-3 months. Please note that online orders where expedited shipping is selected do NOT mean that a specific product is in stock and will ship right away. It simply means we will ship via the selected method when the product is available to ship. We can only confirm availability over the phone or online chat.  Availability changes daily if not hourly.  While we do our best to have a wide variety of TOUGHBOOK models and accessories in stock, this particular supply chain is challenging and we ask that customers please confirm availability with us on the phone when time is a priority. Additionally, expedited shipping will not apply to multiple items that might have multiple lead times and ship dates. It is typically applying to the main item of an order. Again, please call us ASAP at 877-532-8088 to discuss urgent needs and expedited shipping.
RETURNS
Due to restrictions set by the manufacturer and their distributors, Panasonic TOUGHBOOK computers and accessories cannot be returned. Customers should refuse delivery of any visibly damaged packages. Any non-visible damage must be reported immediately to MooringTech.com. Defective or malfunctioning units must be handled directly with Panasonic at 1-800-LAPTOP5 (800-527-867). Potential exceptions to this return policy can only be arranged prior to purchasing the product and only with the explicit consent of a sales representative who is firmly aware of all extenuating circumstances. Returns will not be accepted by MooringTech.com without a Return Merchandise Authorization (RMA). Returned items lacking an RMA will be refused or sent back to the customer at the customer's expense. Shipping and handling charges are always non-refundable.  Approved returns will almost always include a 20% restocking fee.  We are not intending to be difficult to work with and value our customer's business.  However, Panasonic TOUGHBOOK devices, all related accessories, and vehicle mounting solutions are not normal consumer products.  These are custom-built, made-to-order solutions that are NON-RETURNABLE.  Please contact us at 877-532-8088 with any questions or concerns regarding this return policy.
STANDARD WARRANTY
All new Panasonic TOUGHBOOK devices sourced from authorized dealers are protected from manufacturing defects for three years. The standard warranty includes a priority parts exchange program and repair service at no cost with overnight shipping to and from Panasonic included. Panasonic's standard warranty (often referred to as "TOUGHBOOK Preferred") also includes lifetime technical support directly with Panasonic at 1-800-LAPTOP-5. In addition, TOUGHBOOK end-users have online access to drivers, first-aid disks, BIOS updates, tools, utilities, and manuals.  Panasonic's
Standard
Manufacturer's Warranty does
NOT
cover
accidental damage
of any kind.
ORIGINAL BATTERY WARRANTY
All new batteries, whether included in the original TOUGHBOOK purchase or acquired as an accessory after the fact, are covered under warranty for one (1) year from the date of purchase. Replacement batteries supplied to a customer under warranty are only covered through the end date of the original purchase.
EXTENDED WARRANTY
Extends original standard warranty (minus the battery) through 4 or 5 years.
PROTECTION PLUS
While the standard warranty covers anything that happens to your TOUGHBOOK under normal operations (meaning manufacturer's defects), it does NOT cover accidental damage of any kind. It is a common misconception that MIL-STD-rated laptops like a Toughbook are warranted for damage within a parameter like a 6ft drop. Meaning if you drop your TOUGHBOOK from 3 feet and it breaks then it is covered by the standard warranty. This is NOT correct. It is impossible for Panasonic to know if it were 3 inches or 3 stories. The only way to be covered from accidental damage is to purchase a Protection Plus or Ultimate Care warranty upgrade. Protection Plus covers one major component failure per year and is limited to one complete device replacement during the warranty period.
ULTIMATE CARE
Ultimate Care is essentially
unlimited
Protection Plus. This means Panasonic will
fix or replace your

TOUGHBOOK 

an unlimited number of times
within the upgraded warranty period. It does not apply in the case of natural disasters (think hurricane or fire) as well as theft/loss and intentional damage (you as the customer trying to upgrade an internal component when you shouldn't). 
How long before my TOUGHBOOK 40 order ships?
Panasonic TOUGHBOOK laptops, tablets, and handhelds are typically considered enterprise solutions that are built to order and can often carry a 30-60+ day lead-time. However, we do our best to have a variety of TOUGHBOOK 40 models in stock. However, due to a variety of supply chain issues, we do anticipate a longer lead-time of 75-150 days during 2022. Please be sure to call, email, or chat with us to confirm what is currently available and what might take time to ship.
Does the screen detach on the TOUGHBOOK 40?
No, the TOUGHBOOK 40 is a traditional clamshell-style laptop. Detachable 2-in-1 alternatives would be the fully-rugged TOUGHBOOK 33 as a larger, heavier option or the fully-rugged TOUGHBOOK G2 as a smaller, more portable option.
What features or integrated options are user-upgradeable on the TOUGHBOOK 40?
Almost everything! RAM, SSD options, the keyboard, DVD Drive, Blu-ray Drive, smartcard readers, barcode scanner, and a fingerprint scanner. #BOOM. The only features that are NOT user-upgradeable are a 4G LTE, 5G, dedicated GPS receiver, the processor (i5 vs i7), a future dedicated graphics upgrade, and special no-wireless / no-camera federal models.
What is an xPAK?
Panasonic calls their Expansion Packs for customizable expansion areas "xPAKs" for short. This is the genius of the TOUGHBOOK 40 which allows authorized dealers and even end-users to easily customize their solution at the time of purchase and beyond. xPAKs are either quick-release, meaning they slide in and out at will, or require just a few straightforward screws. xPAKs can also be locked into place with a screw to either prevent accidental or easy intentional removal if desired.
What screws are included when purchasing the spare screw pack (FZ-VSW551U)?
There are 9 interchangeable screws that are a mix of silver and black. xPAKs will come with the proper screws to install initially, but this screw pack can be used as spare screws (in case you lose the original) or the screw necessary to lock a feature into place.
Are the Solid-State Hard Drives removable?
Yes, even though the SSD on the TOUGHBOOK 40 is an m.2 SATA form factor, it resides in a removable caddy that has a quick-release lever. This is very relevant and important to certain end-users, including Federal or Federal-related customers who require this feature. As technology evolves to the m.2 SATA form factor and away from a traditional 2.5" SATA design, this innovation is a welcome characteristic of the TOUGHBOOK 40 and clearly the path forward for future devices.
Is the primary and optional secondary battery removable?
Yes. Both batteries are identical and both slots have a quick-release lever and design.
How long do the batteries last?
A TOUGHBOOK 40 battery offers up to 16 hours of battery life. Because the TOUGHBOOK 40 can hold (2) of these batteries at once, you can potentially expect up to 36 hours of overall battery life. These results are based on a universal battery test called MobileMark 2014. The specific test used is referred to as a Productivity Scenario, which sets the unit on a 150 NIT display brightness, uses Wi-Fi for web browsing, and performs basic tasks such as word processing and/or spreadsheet manipulation. No other features like 4G LTE or dGPS are used and the screen brightness is on the lower end. In practice, most customers can realistically expect somewhere between 60-90% of this possible battery life claim as most people tend to set a brighter display and use more resources. Regardless, 24+ hours of battery is remarkable.
What does "vPro" mean?
To a normal consumer, vPro isn't really relevant. This feature is typically leveraged by large companies and government agencies to allow IT departments remote management of their deployed computer hardware assets. It also adds Intel® Hardware Shield.
Does it come with a stylus pen and tether?
Yes! the new TOUGHBOOK 40 will come standard with a stylus and tether.
If I am a First Responder, can I get access to FirstNet and Band 14?
Yes, the TOUGHBOOK 40 offers an optional 4G or 5G modem that is FirstNet Ready and supports Band14.
Do I have to purchase a new desktop or vehicle dock if I had those for my TOUGHBOOK 31?
Yes. The TOUGHBOOK 40 has an entirely different footprint than the TOUGHBOOK 31 and will require a different desktop or vehicle docking station if needed.